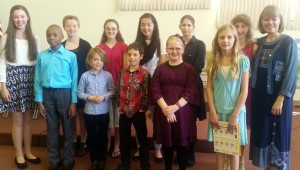 Fee for 45 minute lesson: $40    Fee for 60 minute lesson:  $50
Payment is due the first week of the month.
Payments may be made via Zelle, PayPal, Venmo or check.
Tuition reserves a specific time for your child in my weekly schedule.  Attendance does not adjust tuition.
Tuition pays for more than lesson time.  It also covers repertoire planning, studio instrument maintenance, instructor continuing education, bookkeeping, scheduling and membership in professional organizations.
Absences
If you need to cancel a lesson (for family travel or illness) I require 24 hour advance notice or you will be charged for the lesson.
If I have cancellations in my schedule I will use that time to make up lessons that week but do not guarantee that will always be possible.
Please inform me of upcoming absences as soon as possible. (719-360-7202)
 If you are late to your lesson, I will teach the remainder of your allotted time.
Summer lessons are very flexible.
Students planning to remain in my studio in the fall are required to take or pay for 6-45 minute lessons during the summer.