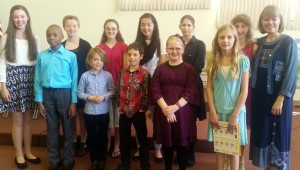 Fee for 45 minute lesson: $35 or $315 for 9 weeks
I use a tuition based model.  (Adult students pay per lesson.)
The school year is divided into 4 quarters.
Payment is due the first week of the quarter.
There is a $10/semester recital fee which is included in tuition.
Payments may be made via Paypal or check.
Absences
If you are absent due to illness, travel or extra-curricular activities refunds will not be given.  You are welcome to trade times with another student. Ask for list of students to trade with.
If I have cancellations in my schedule I will use that time to make up lessons but do not guarantee that will always be possible.
Please inform me of upcoming absences as soon as possible. (719-360-7202)
 If you are late to your lesson, I will teach the remainder of your allotted time.
Summer lessons are very flexible.
Students planning to remain in my studio in the fall are required to take or pay for 5-45 minute lessons during the summer.